I've made plain gnocchi before, but I really wanted to try pumpkin. Chris was a little worried that this might taste to much like a breakfast item, but he actually loved it. It doesn't take very long to make either. The prep takes longer then the actual cooking. I found numerous recipes for this online and couldn't decide which one to follow so I ended up making my own variation of it. Next time instead of using sage in the sauce I might even try a red sauce or a sauce with thyme. Either way this was a delicious dish. I made acorn squash with this as well.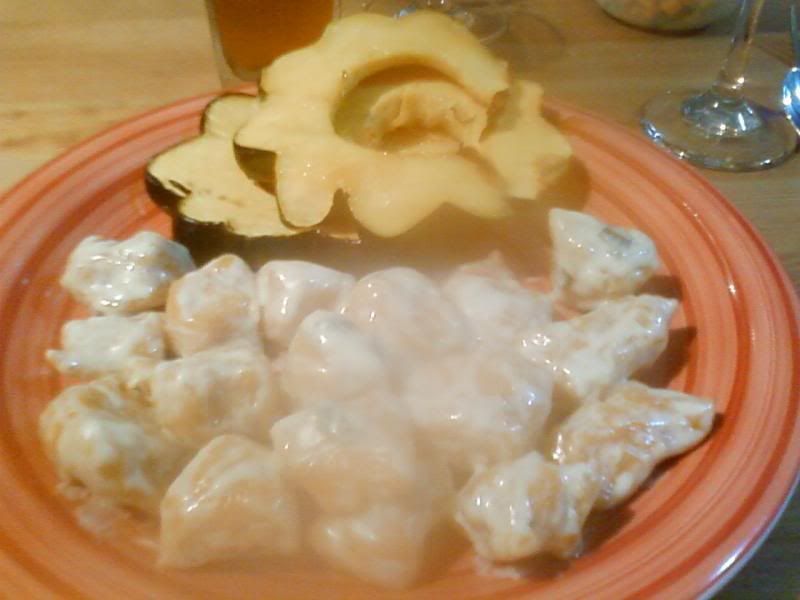 Ingredients:
For the gnocchi:
1 can(15 oz) of pumpkin puree, or you could use 15oz of fresh pumpkin
A pinch of salt and pepper
3 cups of whole wheat flour, you could use white flour as well
For the sauce:
1/3 cup of butter
6-7 sage leaves chopped very fine
1 clove of garlic
Heavy whipping cream
Directions:
1)Mix together ingredients for the gnocchi and form into a dough.
2)If needed you can add flour to the dough if it's sticky.
3)Divide the dough into about 6 parts, hand roll each part to a rope. You can use a roller, but I found it was easier to hand roll.
4)Cut the rope into 1 inch pieces.
5)Once ready to cook, boil water and then drop the gnocchi into the water until they rise to the top.
6)Put the butter in saucepan, along with the garlic, sage, and heavy cream. Let that simmer for a few minutes then add gnocchi and toss around for a few minutes.
7)Serve with some parm cheese on top.
Maple Acorn Squash
Ingredients:
1 acorn squash
3/4 cup maple syrup
2 tablespoons of butter
Directions:
1) Pre-heat oven to 350 degrees.
2) Cut acorn squash in half, and then into slices
3) Melt butter and syrup together in a bowl. Stir together.
4) Arrange squash slices on a baking pan and then pour syrup mixture over top. Bake this for about 15-20 minutes or until squash is cooked. You should be able to stick a fork in it.
Enjoy!