This is originally a Weight Watchers recipe with turkey, but we wanted to use chicken instead. They turned out really well! We made them with a side of dirty rice.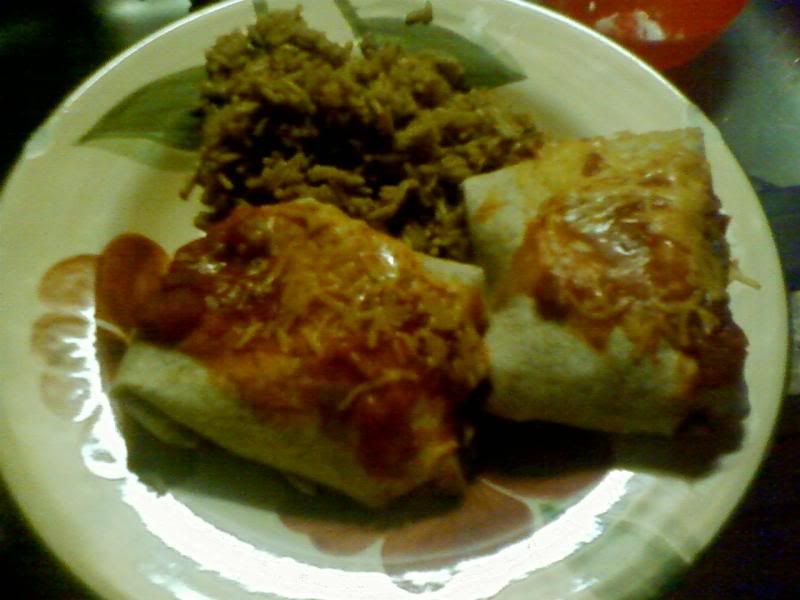 Ingredients:
1 serving cooking spray (5 one second sprays)
1/2 pound uncooked chicken breast
16 oz fat-free canned white butter beans
8 oz salsa
1 tsp chili powder
3 Tbsp scallion(s), thinly sliced
1 cup shredded reduced-fat
Monterey
Jack cheese
8 large burrito-size wheat flour tortilla(s)
1 cup salsa
1/2 cup fat-free sour cream
A
handful
of red and green peppers, diced
Directions:
1)Preheat oven to 350ºF.
2) Coat a large skillet with cooking spray.
3)Coat a 13 X 9 X 2-inch baking dish with cooking spray.
4)Add chicken to skillet and cook over medium-high heat until lightly browned, about 5 minutes.
5)Drain any excess liquid from pan and then add beans, 8 ounces of salsa, red and green peppers, chili powder and scallions. Cook until heated through, about 3 minutes; stir in cheese.
6)Meanwhile, wrap tortillas in foil; warm in oven for 10 minutes.
7)Assemble chimichangas by spooning about 1/2 cup of chicken mixture onto each tortilla; fold
in sides and roll up.
8)Place chimichangas in prepared baking dish. Bake uncovered until tortillas are crisp and
brown, about 20 minutes. Serve each topped with 2 tablespoons of additional salsa and
1 tablespoon of sour cream.
Enjoy!!
Recipe from FatAss Kitchen Food Blog*