These are really good cookies and a great thing to make if you buy way too many candy canes like I do! This recipe does call for the dough to chill about an hour or two.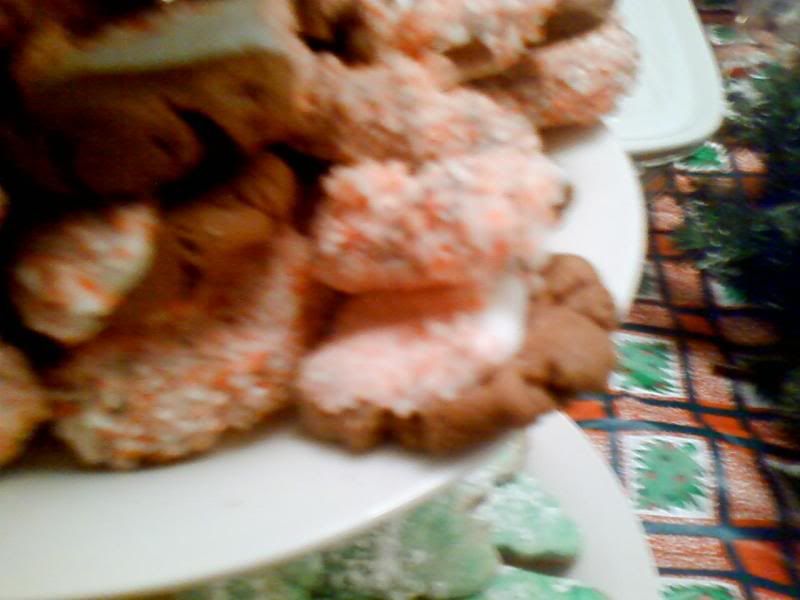 Ingredients:
2 sticks (1 cup) regular butter, slightly softened
1 cup powdered sugar
1 egg'
2 teaspoons vanilla
2 1/2 cups flour
1/2 cup unsweetened cocoa powder
1 teaspoon salt
4 squares almond bark or white baking chocolate
1 package of red candy canes
Directions:
1)Cream softened butter with powdered sugar.
2) Add egg and vanilla and mix to combine.
3) Add dry ingredients and mix together until dough comes together.
4) Place plastic wrap on surface of dough and refrigerate for 2 hours.
5) Unwrap candies and place them in food processor or plastic bag. Beat or process until finely crushed, leaving larger chunks if desired.
6) Preheat oven to 375 degrees.
7) Roll cookie dough in walnut-sized pieces and place on a cookie sheet.
8)Gently press balls flat with a plain, smooth surface.
9) Bake for 7 to 9 minutes, being careful not to burn.
10) Cookies will remain the same general size and shape after they bake.
11) Remove from oven and place cookies on a cooling rack. Allow them to cool completely.
12) Place crushed candies in bowl.
13) Melt almond bark in a coffee mug.
14) Dip cooled cookies into almond bark, coating half the cookie.
15) Immediately sprinkle crushed peppermints over both sides of the almond bark.
16) Gently sent on parchment paper or other nonstick surface and allow to cool before serving.
Enjoy!
*Recipe adapted from The Pioneer Woman Cooks*