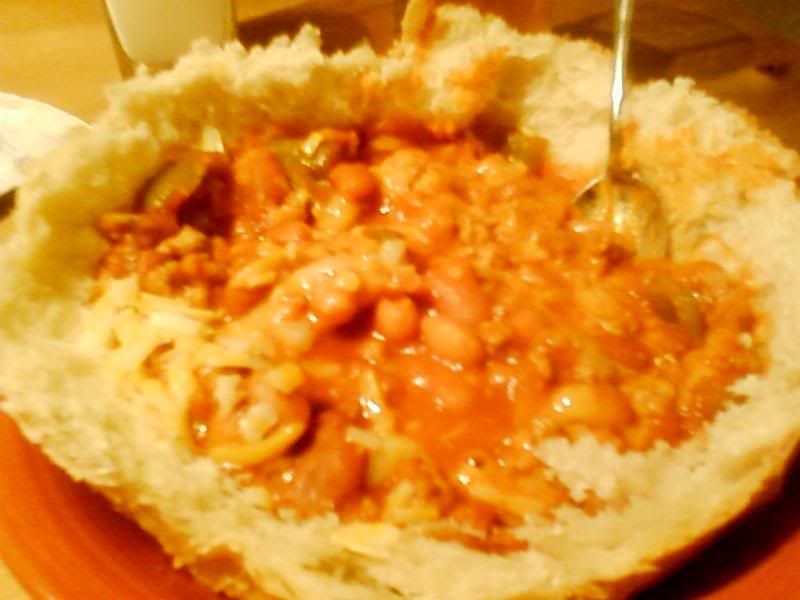 In my 101 list, I said I want to try at least 3 new recipies a month for 3 months. So Chris and I both love chili bread bowls, but never have tried to make our own chili, well I decided to make it last night, since it was SO cold out! It turned out amazing!! I got a few different recpies and got an idea of how to make it and created my own!
Ingredients:
1 lb or so of ground turkey meat
1/4 tomato juice
1/4 can tomato sauce
1/4 can kidney beans, drained and rinsed
1/4 can pinto beans, drained and rinsed
1/4 cup and 2 teaspoons chopped onion
2-1/2 teaspoons chopped green bell pepper
1/8 teaspoon ground cayenne pepper
1/8 teaspoon white sugar
1/8 teaspoon dried oregano
1/8 teaspoon ground black pepper
1/4 teaspoon salt
1/4 teaspoon ground cumin
2-1/2 teaspoons chili powder
Directions:
1) Place ground turkey in a large, deep skillet, cook over medium-high heat until evenly brown. Drain, and crumble.
2) In a large pot over high heat combine the ground beef, tomato juice, tomato sauce, kidney beans, pinto beans, onions, bell pepper, cayenne pepper, sugar, oregano, ground black pepper, salt, cumin and chili powder. Bring to a boil, then reduce heat to low.
3) Simmer for 1 1/2 hours.
For the bread, buy a boule cut it in half and take out the bread. Serve the soup in the bread bowl and serve with the bread you took out to create the bowl!
Enjoy!!