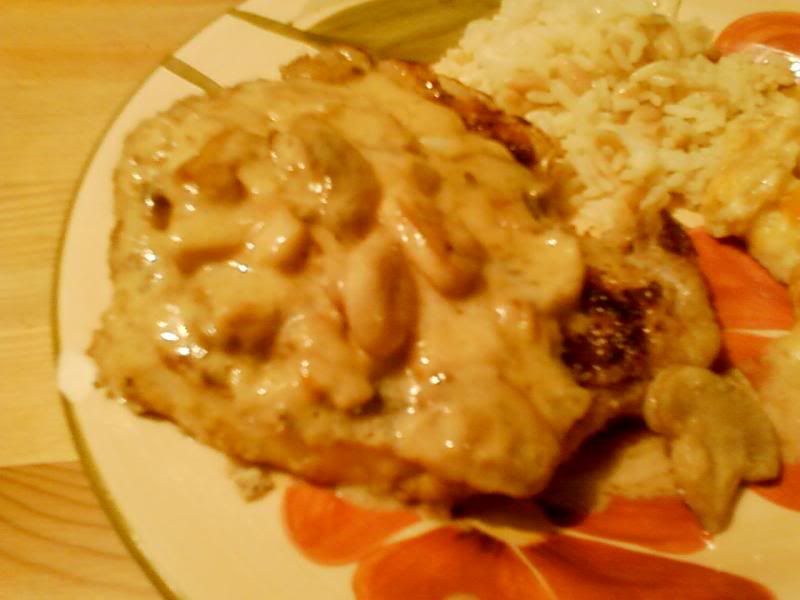 I just have one word for this, recipe!! DELICIOUS!!
Ingredients:
2 Tbsp olive oil
1 lb button mushrooms, sliced
1/4 cup chopped onions
2 large garlic cloves, chopped
1/2 cup dry white wine
1 cup chicken stock
1/2 cup heavy cream
1/4 cup bourbon whisky
Salt and pepper
1 large egg
2 Tbsp water
4 6-7 oz center-cut pork chops
All purpose flour
2 cups fresh bread crumbs
3 Tbsp olive oil or grapeseed oil
2 Tbsp minced fresh basil
Directions:
1) Prepare the sauce. Sauté onions, garlic, and mushrooms in 2 Tbsp of olive oil in a large skillet on medium high heat until the mushrooms are browned - about 15 minutes.
2) Add the wine and boil down until the liquid is reduced to almost a glaze, about 4 minutes.
3) Add the chicken stock, cream, and bourbon. Simmer until the sauce thickens, about 12 minutes.
4)Prepare the pork. Whisk an egg and 2 Tbsp of water in a shallow baking dish. Sprinkle both sides of pork chops with salt and pepper. Dip chops into the flour, then egg mixture, then breadcrumbs, coating completely.
5)Heat olive or grapeseed oil in a large skillet over medium-high heat.
6)Add the pork chops and cook until brown, about 4 minutes per side. Turn the chops one more time and lower the heat to med-low and cook an additional 5-8 minutes, until the internal temperature of the chop is at 140°F.
7)When about to serve the pork, bring the sauce to a simmer and add the chopped basil to it. Season to taste with salt and freshly ground black pepper.
Enjoy!!
*Recipe from elise.com*